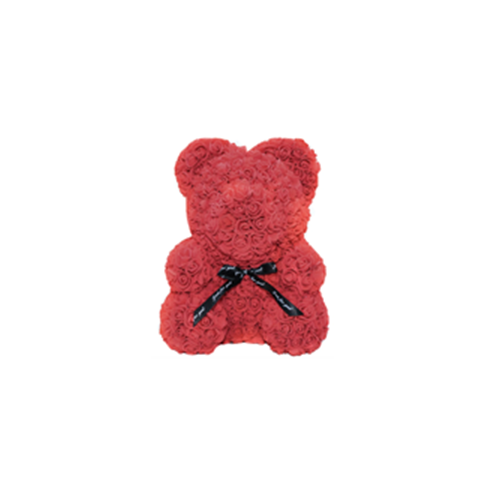 Large Red Rose Bear
$129.99
The Large Red Rose Bear is a stunning and romantic gift that seamlessly combines the timeless charm of a teddy bear with the exquisite beauty of preserved roses. This unique creation is meticulously handcrafted to provide a breathtaking and long-lasting expression of love, affection, or celebration. Whether you're looking to surprise a loved one, commemorate a special occasion, or convey your feelings in an unforgettable way, the Large Red Rose Bear is a symbol of passion, elegance, and enduring sentiment. Key Features: Handcrafted Elegance: Each Large Red Rose Bear is expertly handcrafted with meticulous attention to detail, ensuring that every aspect of this gift exudes grace and perfection. From the plush, cuddly bear to the lifelike preserved roses, this creation is a work of art. Preserved Roses: The bear's exterior is adorned with premium preserved roses that maintain their natural appearance and texture for an extended period. These roses symbolize love and passion, making them a perfect choice for heartfelt expressions. Generously Sized: This bear is designed to be generously sized, offering a large and huggable companion that is suitable for recipients of all ages. Its inviting embrace encourages cuddling and cherishing. Classic Red Color: The rich red color of the bear adds an element of timeless romance and sophistication to the gift. It is both passionate and elegant, making it suitable for a wide range of occasions. Lasting Keepsake: Unlike fresh flowers that quickly wither, the preserved roses on the Large Red Rose Bear can remain vibrant and beautiful for months or even years, serving as a lasting token of your affection. Elegant Presentation: Each Large Red Rose Bear is elegantly presented in a gift box or wrapping, enhancing the overall presentation and making it ready for gifting. Versatile Gift: Whether it's a romantic gesture, a token of deep appreciation, or a decorative piece for a special event, the Large Red Rose Bear is a versatile and meaningful gift.
FREE SHIPPING
Enjoy free shipping in NY and NJ for all orders over $25 ($60 rest of the US)
FAST DELIVERY
All our deliveries are handled and shipped within 24 hours
CUSTOMER SUPPORT
We are committed to making sure you're happy and helping you live your sweetest life!